CEP COLD WEATHER Collection – the individual layer system.
Whatever the weather has in store for you, the new COLD WEATHER collection by CEP puts you fully in charge of your run.

We developed the CEP COLD WEATHER Collection for all the runners who refuse to be deterred from living their passion by cooler temperatures and challenging weather conditions. The CEP individual layer system consists of three layers which together protect you from wind and rain, keep you warm and wick away moisture – so you can devote all your concentration to your run.
Outer Layer: protects you from wind, rain and cold.
Mid Layer: retains your body heat keeping you warm at lower temperatures.
Base Layer: wicks away sweat and moisture quickly and effectively.
Are you ready to defeat the cold? Choose from our wide selection of products and colors to create your personal COLD WEATHER outfit.
DISCOVER THE INDIVIDUAL LAYER SYSTEM BY CEP
COLD WEATHER COLLECTION – SHOP THE LOOK
The CEP COLD WEATHER Collection has been developed especially for running in colder temperatures and changing weather conditions. CEP is centering sustainability with this collection. The majority of the products are made with natural and recycled functional fabrics. Discover the versatile, combinable options and put together your individual COLD WEATHER outfit.
COLD WEATHER Collection for women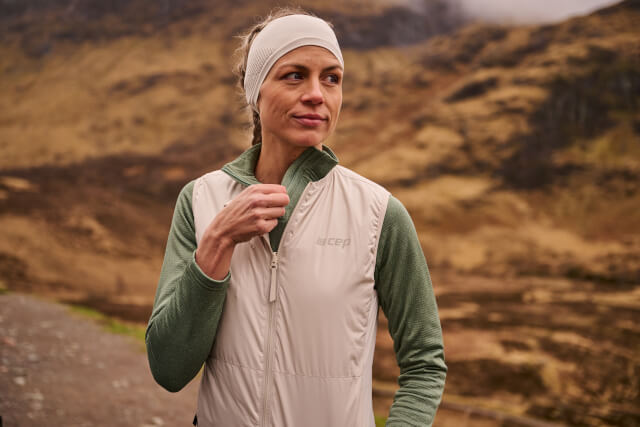 COLD WEATHER Collection for men
OUTER LAYER: STAY PROTECTED
You can depend on our high-quality CEP Outer Layers to protect you from challenging weather and make sure you retain essential body heat as you run.
Weather resistance: We use water-repellent and windproof materials for protection against rain, snow and cold winds.
Breathability: These high-quality technical fabrics wick perspiration and moisture away from the body and allow excessive heat to dissipate.
Freedom to move: Stretch fabrics and mesh inserts ensure a comfortable fit and the freedom of movement that's essential for your run training.
Packability: CEP Outer Layers are designed to be easy to pack up and compact to carry so when temperatures rise you can quickly stow them away.
COLD WEATHER Windbreaker
The COLD WEATHER Windbreaker is perfect for protection on cold days thanks to water-repellent and windproof fabric. The Windbreaker can be packed away in seconds and carried around the waist like a belt, so you are always prepared to react instantly to changeable weather. Made with 95 % recycled polyester, the stretch fabric combined with mesh inserts guarantees maximum freedom to move and excellent breathability.
Available in 2 colors
COLD WEATHER Vest
The COLD WEATHER Vest features fabric that repels both water and wind while high-quality PrimaLoft Gold insulation delivers exceptional protection against wind and cold temperatures. The Vest is reversible for even more versatility. One side has reflective elements for improved visibility and the other side features cleverly arranged pockets for keys, phone, gels and everything you may need.
Available in 2 colors
MID LAYER: STAY WARM
CEP Mid Layers are an essential component in a running outfit for cold temperatures, as this is the layer that effectively retains your body heat and protects you from cooling down excessively.
Insulation: High-quality fabrics using smart technology form an additional layer of thermal insulation.
Breathability: Moisture from perspiration is effectively transported away from the skin, preventing heat loss.
Versatility: CEP Mid Layers can be combined with other CEP layering pieces for versatile outfits.
COLD WEATHER Tights
The COLD WEATHER Tights supply optimized protection against cold, with a brushed inner surface and wind-defense material on the front of the legs, so you can run in cold temperatures without losing too much body heat. They are designed with a perfect tight fit and wide waistband for a stay-put wear. Featuring reflective details on the lower leg and a large zip pocket at the back of the waistband with room for phone, keys and more, the COLD WEATHER Tights are the perfect choice for your run.
Available in 2 colors
COLD WEATHER Pants
A brushed inner surface and smart THERMAL CLIMA technology mean the COLD WEATHER Pants by CEP offer ideal protection in cold temperatures. The functional fabric on the outside, made with recycled materials, provides additional protection against wind and rain. At the upper leg, the fit is loose, for a cool look and unrestricted movement. Two large zip side pockets plus a back zip pocket offer all the space you need for a phone, gels or other essentials.
Available in 2 colors
COLD WEATHER Shirt
The COLD WEATHER Shirt by CEP is perfect for running in cold temperatures. High-quality, recycled functional fabrics and a brushed finish inside deliver optimum warmth. The stretch fabric creates the perfect fit, and the thumb-hole design and stand-up collar provide versatile protection from the cold. Reflective details complete the look.
Available in 3 colors
COLD WEATHER Zip Shirt
The COLD WEATHER Zip Shirt by CEP impresses with an innovative waffle structure on the inner surface, designed to retain body heat effectively while transporting moisture away from the skin. The stand-up collar can be zipped up for extra protection or opened for ventilation. Flat seams, anatomical design and sustainable, recycled functional fabrics allow you to enjoy exceptional comfort on every run.
Available in 3 colors
BASE LAYER: STAY DRY
The CEP Base Layers have been developed especially for runners and they work by wicking sweat away from the skin and transporting moisture to the outside of the fabric. This property is essential to keep your skin dry and maintain comfort throughout each wear.
Temperature regulation:

Removing moisture from the surface of the skin keeps your body temperature stable.

Insulation

: CEP Base Layers are designed to retain your body heat while also ensuring ventilation is adequate where you need it.

Skin comfort

: The soft, skin-friendly fabrics in CEP Base Layers make them always a supremely comfortable wear and minimize the risk of skin irritation or chafing, especially on your long runs.
COLD WEATHER BASE LAYER
COLD WEATHER BASE LAYER
Short Sleeve, Long Sleeve, Boxer or Panties – COLD WEATHER Base Layers are characterized by the quick-drying and sweat-wicking properties of their highly functional materials. Comfort is assured by a seamless finish, while ventilation zones provide excellent breathability. Sustainable, warm fabrics optimize your temperature and moisture management for cold days.
Available in 2 colors
COLD WEATHER Compression Socks
The COLD WEATHER Compression Socks combine natural merino wool with high-quality synthetic fibers for the best of both worlds: Stretch and stability from the high-tech fibers, exceptional insulation and moisture management from the natural fibers. The medical compression promotes optimized circulation of blood in the legs, efficiently delivering nutrients and oxygen to the muscles. Choose between Tall Socks and Mid Cut Socks.
Available in 4 colors
Complete your running outfit with COLD WEATHER accessories